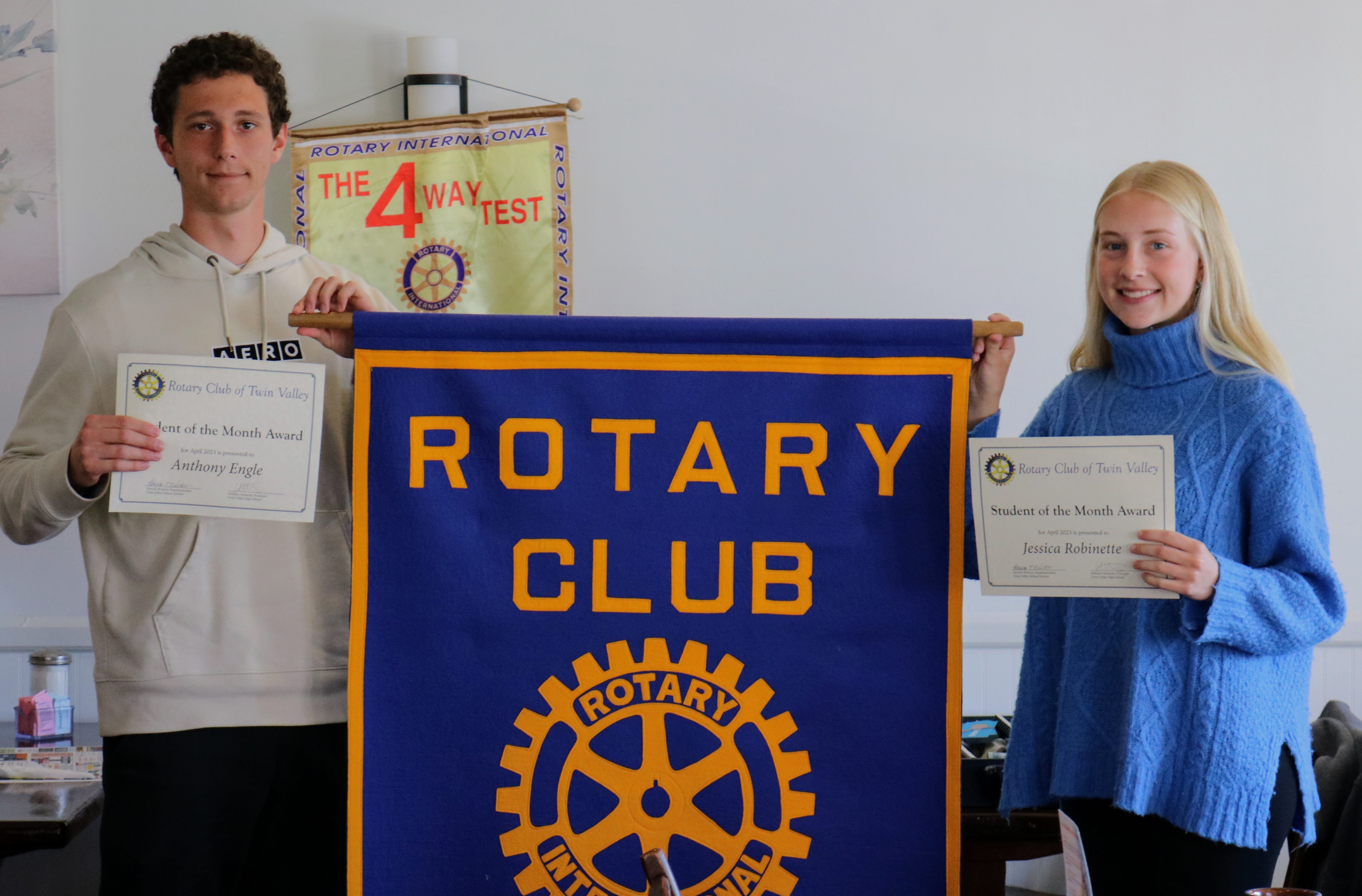 Anthony Engle and Jessica Robinette
Anthony Engle
Anthony Engle is known for giving a 110% effort in all of his endeavors. This drive is what enables him to succeed in a wide variety of areas: anywhere from athletics and academics to extracurricular activities. For example, his dedication in track has allowed him to be a member of the all state indoor track team, holding school records in every event from the 800m to 3000m individual races, and also being a member of the record setting 4x800m relay, distance medley relay, and 4x400m relay teams. His favorite athletic accomplishment is placing fourth and third at the indoor state championships in his junior and senior years respectively. On the academic side, he has maintained straight A's throughout his entire high school career placing him third in the class, with 8 AP courses and many more honors classes. He also serves as the Varsity sports club president, is a member of the National Honors Society, and serves in the heroes' club, teaching lessons to 4th grade students at Robeson Elementary school. He also takes pride in being the runner up for the governor position of the American Legion's Keystone Boys State program, again demonstrating his ability to succeed in a wide variety of areas.
By far, one of his proudest accomplishments is gaining the two congressional nominations allowing him to officially be a member of the United States Naval Academy class of 2027. There he will run Division 1 track and cross country, study engineering, and then, upon graduation serve as an officer in the military.
Jessica Robinette
Jessica Robinette is a senior at Twin Valley High School. Jessica will be attending East Stroudsburg University next year to further her academic career. She is heavily involved in many clubs and activities provided at the school. Jessica participates in girls' lacrosse, Mini-Thon, NHS, Link, and History Club. Since she was 10 years old, Jessica has played lacrosse. Although she is not planning on playing lacrosse in college, this sport has been a big part of her life. From ages 13 to 16 she played on travel lacrosse teams. Jessica played for PA Express for one year then went and played for Xtreme for two more years. During her time playing lacrosse for Twin Valley, the team has won two county and one district titles. Jessica also participates in Mini-Thon as Merchandise Overall where she helps raise money for kids with pediatric cancer. As fas as academics, she has maintained a 4.175 cumulative GPA and is ranked 27th in her class. She intends to major in Accounting at East Stroudsburg University. Jessica is very thankful and appreciative of her internships this year with Accounting Manager, Dodie Kern, and Mrs. Cipolla. These internships showed her the ins and outs of accounting and gave her a real-world experience of working with a business. Jessica's mother and father are her biggest supporters, and she appreciates everything they have done for her over the years. She credits all her success to her family, and thanks them for always helping her along the way.